Vino wrote:@Antag when you say two guns per loadout you mean max? You mean Halo style? You mean no slot system at all? You mean casual console FPS style? I think you're right in that having six pistols was dumb, but limit of two weapons is too much, I think.
Okay, you may be right but how about this?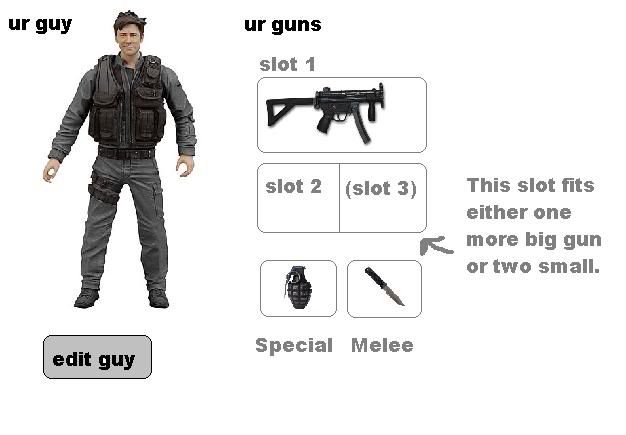 The guy in the picture would have
"Weight: light"
, because he only picked an smg. If he had brought only a pistol, then his mobility would have been
"very light"
. His armor is just a cosmetic feature and offers no protection. He should get a
mobility advantage
for only using one slot, but I don't think that his running speed should be faster than others. Instead, I think that his stunts should give him more range and air time, it should take less time for him to stand up from prone and if there is some kind of climbing system, that should go faster too. I think that all acrobatics should be faster and better because he is light, and if there is a sprint system, mb just let people that have lighter load outs sprint much longer than those with heavier load outs.
So what I'm proposing now is a slot based system that limits you to two big guns or one big gun and two small. Akimbo could either be an attachment or count as a big gun (that can have its own attachments), depending on how complex you want it. I like the idea of having akimbos count as one two-handed gun in terms of weight and slot usage. I don't think a more complicated weight system than this is required for it to be fun.
This is just a mock up, but what about
something
like that? To clarify: slot 2 and slot 3 can hold two
different
small guns, not just akimbos of the same gun. In my opinion, three different slots would be okay, if akimbo guns always count as a big gun, and can replace any big gun. Having two pairs of pistols and THEN another gun feels like too many guns to me. I guess having four slots that can fit four different pistols wouldn't be gamebreaking even if it'd be a little silly, because some people might really really not want to spawn with anything other than pistols on them (sigh).